Pipsqueak
Pipsqueak is a lost ladybug - help them find their way out of the cave!
Choose which dice to roll (ATK, DEF, MOV)

shortcuts are the 1, 2 & 3 keys


Move and attack enemies

you can use arrow keys to move and attack

Roll a SEVEN to take an extra turn
Roll DOUBLES to double the value of your dice
Complete each room of the cave to earn items
Pipsqueak is our first time using Godot, so lots of lessons were learned!

The theme for Godot Wild #32 was:


So we made a game about a ladybug (most commonly have 7 spots), where you use 2 dice to determine your actions every turn (most common result of rolling 2 dice is 7).
Since our game uses dice and common RPGstats, we figure we qualify for the "Roll a D20" wildcard as well: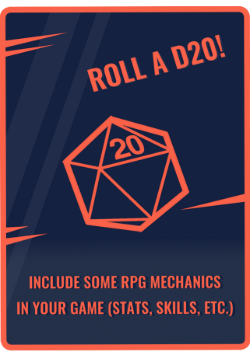 Art, Music, Code & Design by Landen
Code & Design by Kyle
Landen (11) had a week-long school break this week, so the timing was perfect to try and make something like this in Godot. Kyle (32) worked full time for the week, so hopped into the project into the evenings to fix any issues Landen ran into and tackle larger problems.